After seeing what Georgia had to offer, I'm excited to see a new state, North Carolina
My long journey began on a Dreary Wednesday morning out of Dahlonega, GA. My first day on Trail looks to be a long and wet one and started February 27th at the Approach Trail in GA. The Approach Trail is an 8 mile section of Trail the brings you to the southern terminus of the AT (Appalachian Trail), Springer Mountain. Some people skip over the Approach Trail, Which is unfortunate because it really dose shed some light on how hard the journey will be. The Approach Trail starts off very easy, but within the first quarter mile the trail turns into a strenuous stretch of stair climbing that feels like it goes on forever! After I finished climbing the stairs it was a breeze to get to Springer.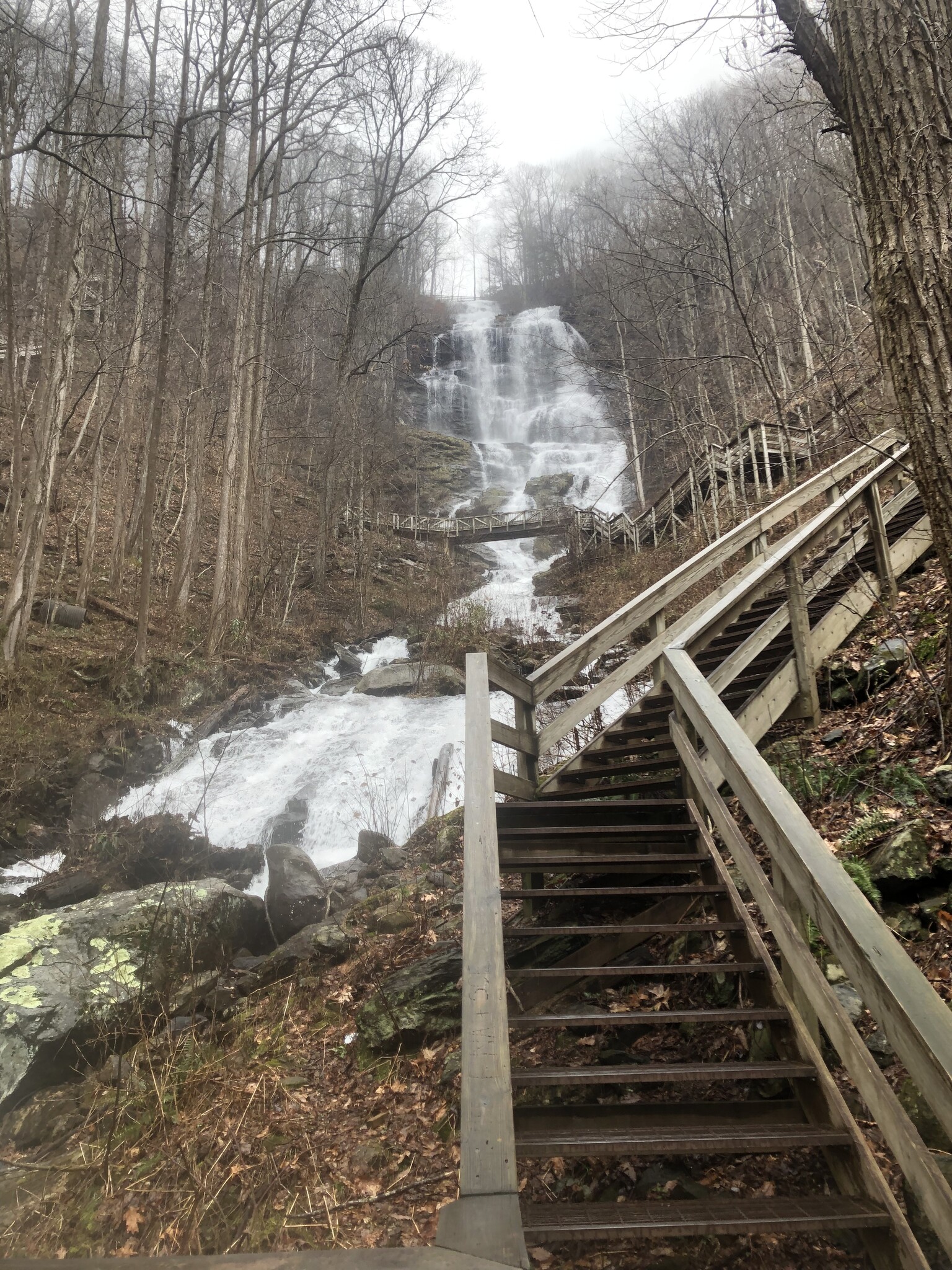 One of the really cool aspects of the AT is that there are Shelters built strategically along the trail which you can camp at nightly. A shelter is typically a three sided structure constructed of wood or stone, which are placed anywhere from 8-15 miles apart.Shelters make breaking camp in the morning a breeze. Which is great because who likes messing with a tent on a cold morning. 
I stayed at Stover Creek Shelter my first night on trail. Stover Creek Shelter is a two story shelter that could fit roughly 12 Hikers. I had about 5 people stay with me my first night and we all talked about the normal thru hiker talk, which in the beginning is typically about food, injury, and equipment.
The following days were cold and rainy until my summit over Blood Mountain. Blood Mountain is one of the first really good views you get on the AT. After flying up Blood Mountain I quickly made my way down to Neel Gap. Neel Gap is roughly 30 miles in on the AT and has a small stone building built by the CCC (Civil Conservation Corps) in the late 1930s. The building which used to function as a work camp now has a new life as the well know Outfitter and Hostel, Mountain Crossings. I reached Mountain Crossings just in time for the Appalachian Trail Kickoff party. The Kickoff Party was great because there was live music, hotdogs, and tons of people to be around and socialize with.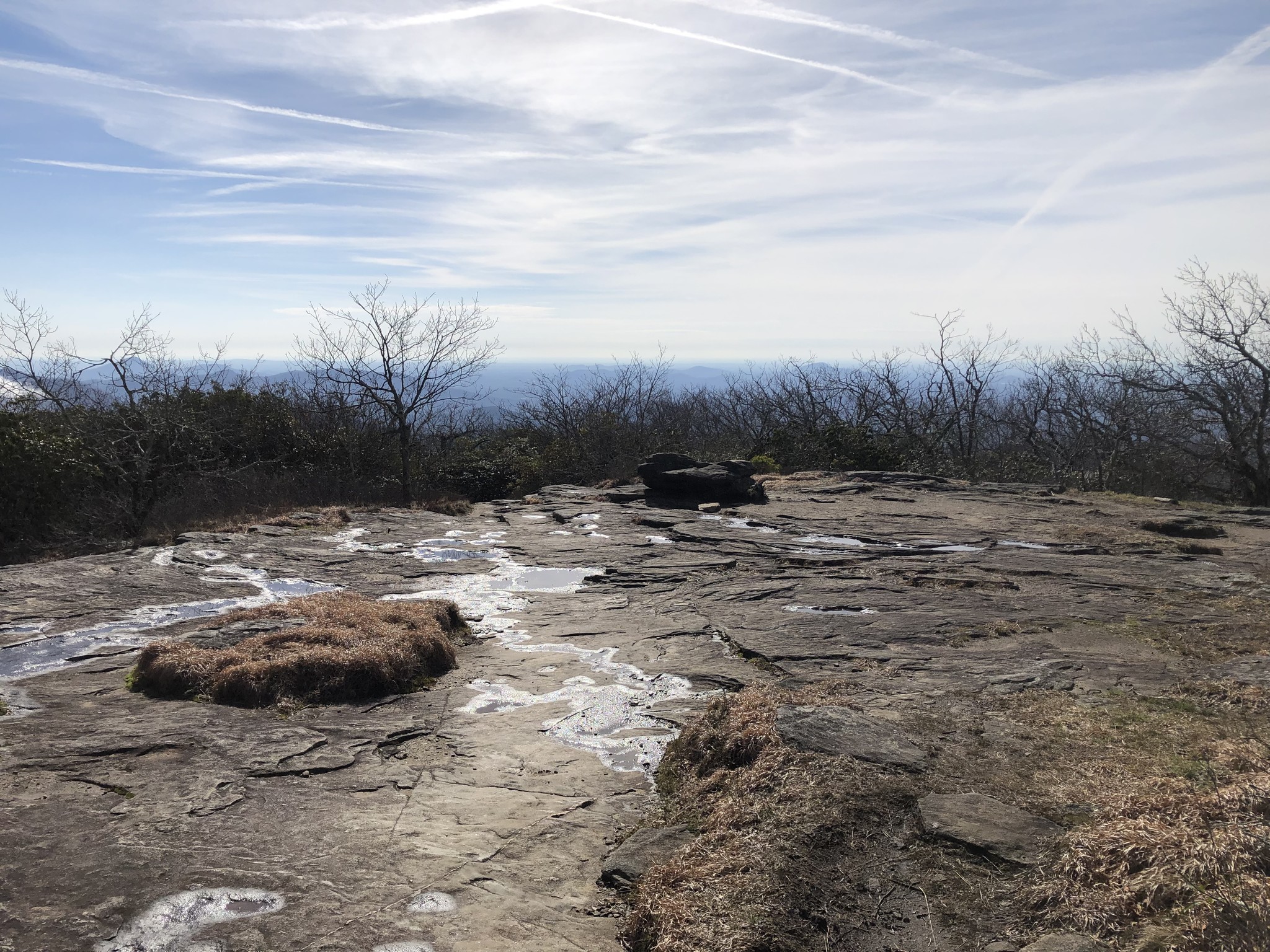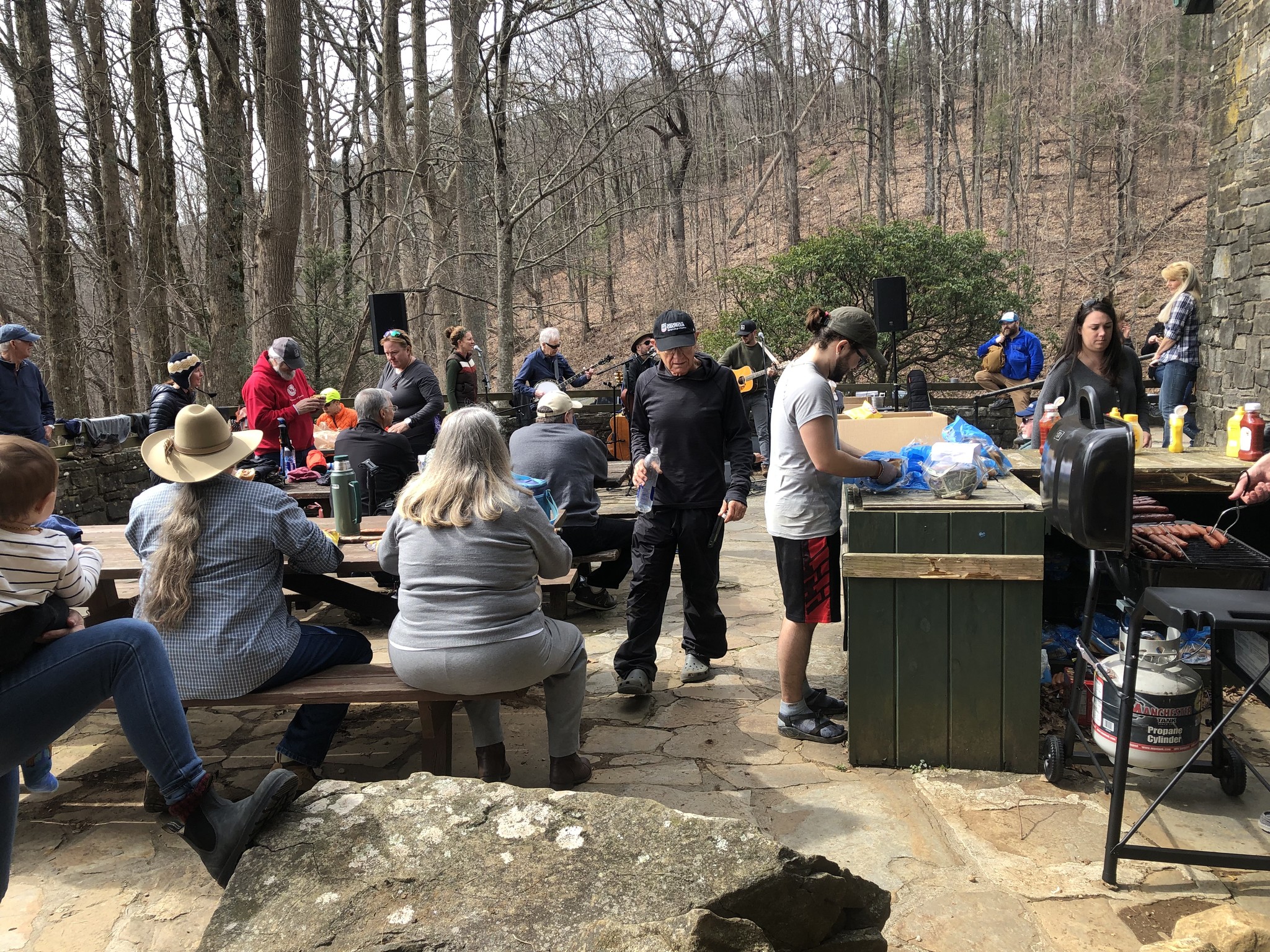 I decided to take a zero (a day with no hiking) in Neel Gap due to the inclement weather we were about to get. The weather was yet again cold and rainy, however this time it was going to deep freeze. The following day made for a extremely cold and windy day. Every time the wind gust it would just tear all warmth off your body. I made it a point to hike fast, and to get as many miles in as I could, because the following day I was going to make it into town to get out of the impending single digit weather. I made it about 10 miles and stopped because it was so cold, I just wanted to eat and get out of the wind and into to my sleeping bag as fast as possible.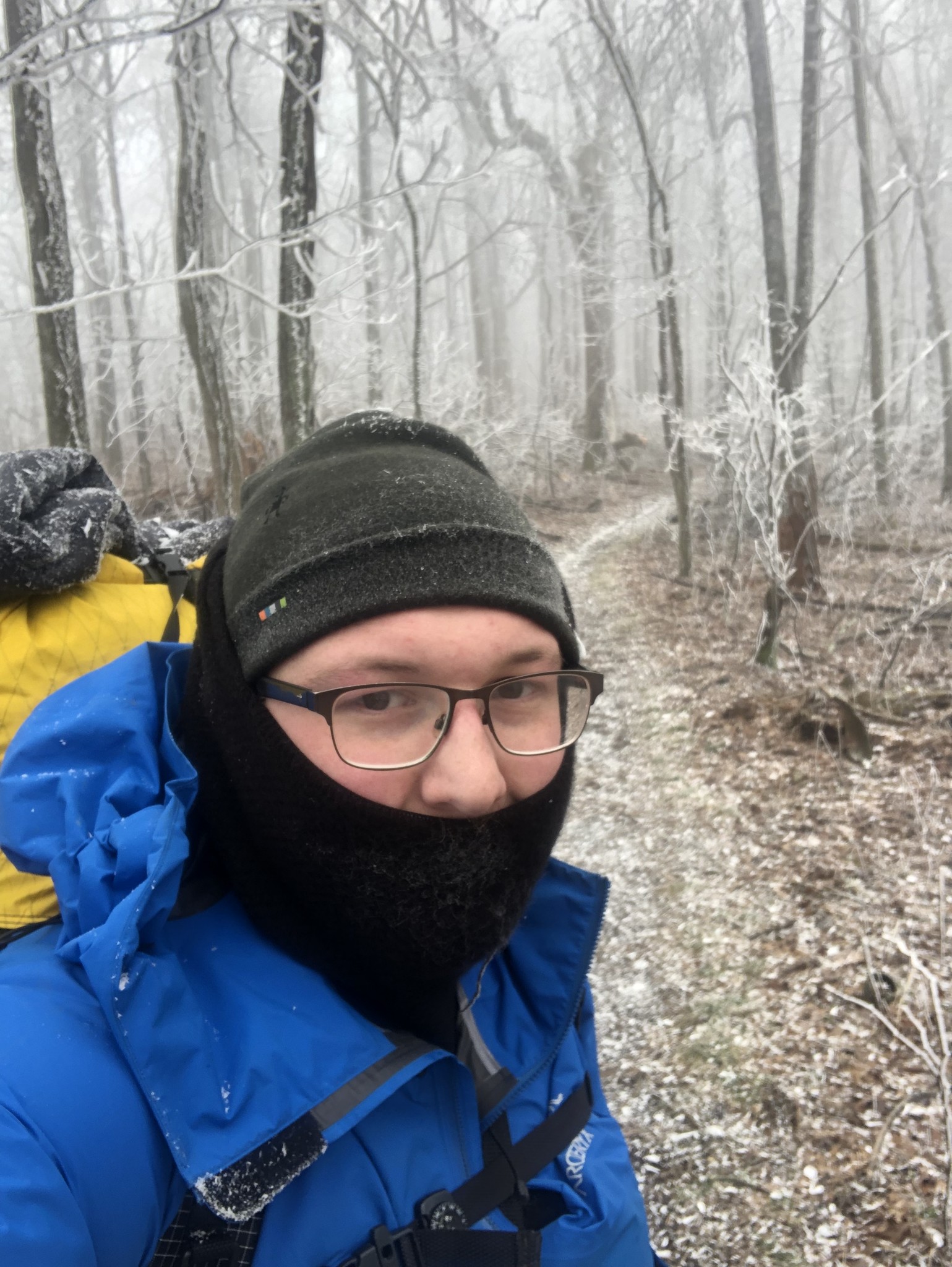 After a frustratingly cold night, I packed all my stuff up at the crack of dawn, crammed down some sort of protein bar and started for town. I had a 10 mile day ahead of me, and I wanted to get to a nice warm motel room. Thankfully for most of the day the trail followed an old road bed which made for quick hiking with not too much elevation gain. Once into Unicoi Gap I was finally able to go into my first trail town, Hiawassee Georgia! It was my chance to get my first hitch. Now, I wouldn't hitch hike in my everyday life because of safety concerns, but when you're thru hiking it's your only mode of transportation. A couple of my peers and I stuck our thumbs out and the first truck to drive by pulled over and loaded us up into the bed of his pickup. Bam, and just like that we were on our way to a warm bed and actual food.
Hiawassee is a small town with an adequate resupply that you can get all your trail foods at. However, Hiawassee has an all you can eat buffet named Daniels. Buffets are a thru hikers dream, because you burn 4,000-6,000 calories a day. You best belive that if I wasn't in my motel room, I was out in town eating somewhere. 
After getting cabin fever, It was time to leave Hiawassee… two days later. Thankfully, we were all lined up for mild weather that day, but were In-store for lots more wet weather later in the week. So, we left town to go back to the trailhead with full bellies, resupplied food bags, and high spirts.
The climb out of Unicoi gap was a long and tough accent. Tray Mountain is one of the taller mountains you climb in North Georgia and has some rewarding views. The climb over Tray Mountain wasn't as bad as what followed later that evening. I had to climb this mountain called Kelly Knob. It was the last climb of the day and it absolutely destroyed me. It must have taken me two hours to climb a less than 1 mile accent. Thankfully there was a shelter on the other side of the mountain that I had planned on staying at! I rolled into camp exhausted around 6PM and laid out my sleeping bag and pad in the shelter to claim my spot. Unfortunately once I started cooking my dinner I realized that I had accidentally thrown away my spoon back in town. I had to somehow eat Ramen Noodles spoonless. I ended up using my Jetboil fuel stabilizer as a fork to shovel away my Ramen. It did not work as well as I hoped. I hung my food so the bears or mini bears (rodents) couldn't devour my snacks, and promptly crawled into my sleeping bag and went to sleep.
The next day was a quick 8 mile day. I really didn't want to be hiking in the rain so I called it a short day just for morale sakes. Thankfully I did because I met a great group of people I have been hiking with. I met Pitt, Julia from the Netherlands, Doc and Boot. We all had the same plan… get out of the rain. After hours of conversation and watching the rain fall outside the shelter it was time to go to bed.
I crossed the NC/GA border within the first couple miles the following day. Finally! I was out of Georgia and ready to take on North Carolina. Right after we crossed the border, we had a steep accent into North Carolina which seemed to last an eternity.
My goal was to make a 12 mile day to Standing Indian Mountain Shelter. Pitt, Julia,Doc and Boot all had the same plan. Being cold and misty made for a slow day of hiking, and everything just seemed to move slower. Eventually in the early evening I made it. Which was perfect timing because we were in for a nasty storm! The shelter we we're staying at was designed for 6 people but we fit 7. We all were set up with clear view out of the shelter for the ensemble which was about to ensue. We all went to bed around 6PM and the wind started to pickup. Shortly after climbing into bed a section hiker had come into camp. We unfortunately had no more room so he had to sleep on the ground in the covered area in front of the shelter. As time goes on, the wind starts to really pickup! The shelter starts having wind and rain thrown into the shelter just barely missing our feet. The wind was Insane! I couldn't believe it! I eventually dozed off, but only to be awaken by a light in the mist in front of the shelter. It said "Is there room!?" to which everyone replied "No". Two hikers had just gotten to camp at 9PM. The mist was so thick that using a headlamp almost made navigating darkness impossible. I couldn't believe they hiked in that storm.
Oddly enough the next morning I woke up rested and dry despite feeling rain drops on my face that night. The section hiker on the floor had quite the opposite. He woke up and everyone asked him if he was soaked, too which he casually replied "yes" to. He didn't say a word all night about getting wet. He just laid there and accepted it. We all just sat there in disbelief as he packed his bag and left for town.
All in all, my Georgia experience was amazing, despite being rainy almost every day I was in the state. I look forward to all the opportunities that North Carolina will give to me. Maybe no more storms?
Happy Trails!
Logan B.